Havana: Where To Go and What To See
There are many ways to explore Havana. Lots of tourists opt for a tour in one of the gazillion restored 1950's American cars–we didn't do that. We found Havana to be a great city for walking, and we walked at least 5 miles or 8 km a day–some days double that.
This is not meant to be an exhaustive list of things to see and do—you can buy a Moon guide for that. These were the activities we enjoyed.
For a quick overview, here's a video we put together from our trip.
This is one of a series of articles about our trip to Cuba. Click here for a list of all the Cuba-related articles.
A Word About Transportation
We walked all over Havana. Sometimes, especially at night and to Havana Vieja, we took taxis from our Vedado apartment. We never paid more than 10 CUC for a trip, and sometimes only 4 or 5 CUC. Depending on the time of day, you can take a collectivo taxi. If it's full, you can pay only 1 CUC per person for the trip that can cost 10 in a regular taxi.
Hop on Hop off Bus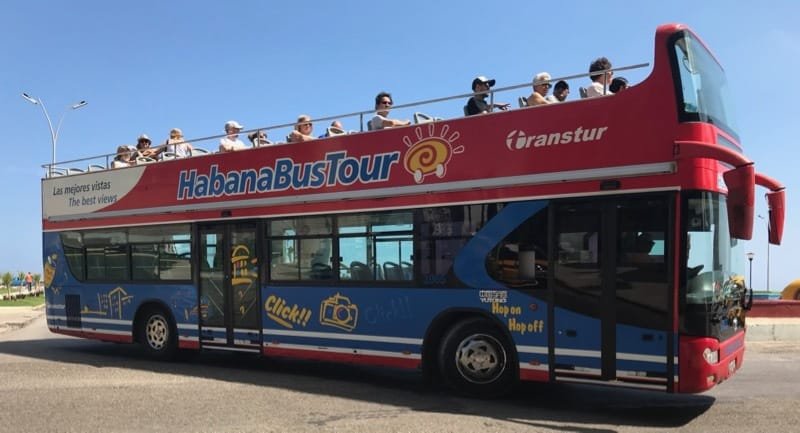 For 10 CUC per person, you can ride the bus from 9am to 6pm. It's a good way to get a feel for the city and travel the length of it in one day. Though the official map looks linear, it's really not. You can get to the José Martí memorial, check out Miramar, and see the sites of Havana Vieja all in one day. Though the bus is not air conditioned, it's a good way to see the sites out of the hot sun.
Havana Vieja
There's a lot to see in Havana Vieja. We took about three partial days to explore. If you want to follow Hemmingway's ghost and drink at his supposedly favorite spots, you could spend a lot longer in Havana Vieja.
Start at the Parque Central and work your way through the small streets. Most of the tourists seem to stick to Obispo street, which is filled with tourist shops and restaurants. Move away from Obispo and it doesn't take long before you get to other, more authentic, parts of Havana Vieja. If you're staying in another part of Havana, it's worth coming to Havana Vieja at night to see the lights.
Monuments, parks, and sculptures, large and small, are everywhere. We enjoyed hanging out around the the Castillo de la Punta and watching the fishermen at sunset.
If you're into museums, the Museo de Belles Artes (fine art museum) is the best. It has two buildings. One, by the Parque Central, houses an international collection. The other, across from the Museo de la Revolución, has only Cuban works, with each section focused on a different era or style. Well worth the visit.
The Museo de la Revolución is housed in the former presidential palace. The building has been restored on the outside and now they're working on the inside. Worth the visit, though we found the propaganda-filled tone of the exhibits a bit unsettling.
Tourist places like the Floridita Bar (supposedly a Hemmingway favorite), La Bodeguita del Medio (more likely a Hemmingway favorite), and Sloppy Joes are all in Havana Vieja. Join the crowds for overpriced drinks!
I love old churches, and Havana Cathedral is a great one. Built between 1748 and 1777, it's considered one of the best examples of Baroque architecture in Cuba. Much of the building is constructed from blocks of coral cut from the ocean floor in the Gulf of Mexico.
On our last day in Havana, we ducked into the delightful Experimental Gallery to get out of the rain. Besides having fun and socio-politically biting prints and photos, they win our Best Cat in Havana Award.
Centro Havana
Centro Havana is a bustling urban area between Havana Vieja and Vedado. The area is densely populated and some buildings are crumbling–it's not restored like Havana Vieja. It's also the location of Havana's mostly defunct Chinatown. The gems of Centro Havana are not always the kind you find in guide books. Most of our time there was during our walking tour…details about that toward the bottom of this post.
Callejon de Hamel
This alley is an artistic homage to Afro-Cuban culture with street art, painted buildings, and mosaics. They have drumming here every Sunday afternoon. It's worth walking through.
Vedado
Vedado is a large area with several sections, ranging from large homes on tree-lined streets to ocean-view apartments, to run-down, poor neighborhoods.
The main business street of Vedado is Calle 23, intersected by the Avenue of the Presidents and Paseo. Running parallel to Calle 23 is Línea, where you'll find shops, markets, busses, taxis, restaurants and banks.
The area between Calle 23 and Línea has large homes and tree-lined streets, with parks and restaurants thrown in. This is where you'll find John Lennon park (the only park in Cuba honoring a Western musician).
The area between Línea and the Malecón, which runs along the ocean, is full of apartments, restaurants clubs, and markets. That's also where you'll find the US Embassy, in all its monolithic ugliness.
José Martí memorial
Head up Paseo, away from the ocean, and you'll be in the Plaza de la Revolución. The standout feature is the José Martí memorial. There's a small museum on the bottom floor. The top of the memorial has sweeping views of the city: the views from the top are worth the 5 CUC entrance fee for both the museum and the elevator ride.
University of Havana
We might not have visited the university if we hadn't done a walking tour with someone who both attended and taught there. The steps are iconic, the buildings are beautiful, and the campus feel is a nice contrast from other parts of the city.
Malecón and Paseo
The Malecón runs 8 km, from Havana Vieja through Vedado. Two areas in Vedado are popular hangout spots: one where Calle 23 ends and one at the end of Paseo. At either spot you'll find couples, fishermen, vendors selling popcorn, buskers, and myriad people passing time in the relative cool of the evening.
Walking Tour
Most of what we saw in Centro Havana was during our walking tour–it was a great way to start our visit and get an orientation into Cuban daily life from an educated Cuban point of view. Our guide, Alex, went into the origins and ramifications of the dual currency (or as he referred to it, the dual exchange rate system). He also told us about subsidized shopping, the healthcare system, and the educational system.
All of these aspects of the Cuban life were made concrete with the visit to the University, walking past clinics and hospitals, and noting the differences between private and state-run restaurants.
If this is an area that interests you, you can book the tour on Airbnb (no, I don't get anything for recommending the tour).
Outside of Havana – Viñales
There are some day trips available from Havana. The most popular and accessible is the mountainous tobacco growing area of Viñale, which is a UNESCO World Heritage site. An overnight trip is better if you're taking busses, and there are tons of casas particulares to choose from. We opted to make the trip in one (long) day. You can read about it here.
This is one of a series of articles about our trip to Cuba. Click here for a list of all the Cuba-related articles.
Share this post!