The Vegan Traveler: Havana, Cuba
This is one of a series of articles about our trip to Cuba. Click here for a list of all the Cuba-related articles.
Cuba has two distinct economies, and that really shows up in food and restaurants. (You may want to read my section on money in the Preparing for Your Trip post before you go on.)
Restaurants aimed at tourists have prices in CUC. Restaurants aimed at Cubans, also called peso restaurants, have prices in CUP. You won't find spectacular food in either one, but the CUC restaurants have greater variety and much better service. We only went to one peso restaurant: the only vegan item on the menu was "papas fritas" which turned out to be potato chips. We later found out that potatoes are hard to get and other root vegetables are used: yuca, boniato (a white-fleshed Caribbean sweet potato), and malanga (in the same family as taro). We had malanga chips at another restaurant and they were delicious.
If your diet is bread-and-cheese based, the cheap pizza and sandwiches found everywhere in Havana can keep you filled up at a low price. Chicken, fish (including canned tuna), and pork are everywhere. For us, the tourist-oriented restaurants and eating at home were the best bets.
Casa Particular Meals
Many casas particulares offer meals. Ours had a breakfast option for 5 CUC per person. The cook tried hard to make us vegan breakfasts, but we really didn't want salads for breakfast and it was much cheaper for us to get our own food.
I've heard many people say that the meals they had at their casa particular were the meals they enjoyed the most in Cuba.
Vegan Restaurant Options
The restaurants we tried were reasonably-priced by US standards, but more than we're used to paying in Guatemala. More than once we left restaurants spending more than we planned and still being hungry (we're big eaters!) For us, a kitchen was essential, but you have to eat out sometimes while traveling.
Though we only found one vegetarian restaurant, several restaurants had at least one or two vegan options. Omnivores would be happy at any of the restaurants we liked (with the possible exception of Camino al Sol).
Calle 19 between N and O, in Vedado
On a quiet street in Vedado, this tiny outdoor (aka no air conditioning) cafe boasts a fusion of Californian and Cuban cuisines. The owner, Shona, is from San Francisco. They have a garbanzo-based veggie burger, a veggie Cuban sandwich, veggie kebob, and salads. Tell them you want sandwiches vegan and they'll leave off the cheese and mayo.
While the food was pretty good, the people were awesome. They have live music around 7pm several evenings a week. Closed on Sunday.
After visiting for lunch, we went back another evening to hear their duo—kind of a Cuban version of our show. Mark had his flute and joined them for a song, then we did a song. Loads of fun.
Camino al Sol
Calle 3, one half block from Paseo, across from the Meliá Cohiba hotel, Vedado
On our first evening in Havana we took a walk to check out our Vedado neighborhood. Fortunately, we walked by Camino al Sol with its big sign "Cocina NaturalMente Vegetariana." Oh, are we glad we walked that way!
Camino al Sol specializes in artisanal pastas in flavors such as basil, red pepper, artichoke, curry, and ginger. The menu changes daily, and they have creative vegetarian items, fresh juices, and sell the dried pasta at 4 CUC for a kilo.
We got a nice, filling meal for several CUC less than we paid at other restaurants. Their pasta served as the base for several delicious homemade meals.
No alcoholic beverages. Open daily 10am to 10pm.
Avenida Paseo 101, Vedado
As we walked up Paseo, this outdoor cafe caught my attention as I saw glasses of white wine and huge salads on tables. We got a meal-sized salad for 4.50 CUC, and a nice glass of wine for 3 CUC. Their specialties include a stuffed pizza (more like a giant air-filled calzone) and wraps. Several vegetarian options can be made vegan. However, we had a problem with them putting cheese on our wraps.
When we asked the server, he asked the kitchen and they still claimed our wraps had no cheese. I pulled the cheese out and piled it on my plate, then asked "if this isn't cheese, what is it?" One of the restaurant employees tried tell me it wasn't cheese. Okay, what is it? Finally they admitted it was cheese. I understand that kitchens make mistakes. But don't try to tell me it's not cheese when it obviously is.
They gave us a free shot of rum for our trouble, but the whole experience made me not want to go back even though it was some of the most flavorful food we had in Havana. We did go back again for their giant salad and to enjoy the lovely patio setting.
Calle 23, corner of D, Vedado
The menu at this Iranian restaurant in Vedado has a full page of vegetarian items, many of which can be made vegan. We had the falafel wrap, which was tasty if a bit small.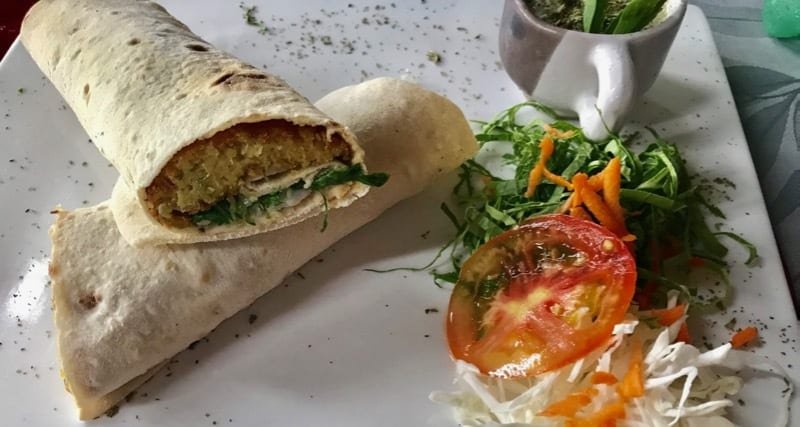 We rarely order dessert, but we were waiting out a storm and they had a vegan dessert option: cucurucho de coco. It was the best thing we had at any restaurant our whole time in Cuba. This dessert, made with sweetened coconut wrapped in palm bark, is a specialty of Baracoa in Guantánamo province. We went back another day just to have it again.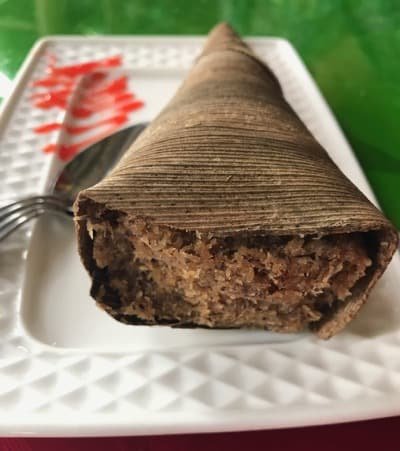 The restaurant has a beautiful garden and great service.
Tejadillo #24, corner of Cuba, Habana Vieja
We went here because of reviews saying they had vegan options, and the fact that they have a great name. It was our first full day in Havana, and we were exploring Havana Vieja. We were greeted by a cheerful woman who told us we were in the right place for vegan.
It turned out that only a couple of dishes were vegan. Those were more like side dishes (red beans and and eggplant dish). We ordered rice, which cost 5 CUC. Really? 5 CUC for a small dish of rice?
It took the food a while to come out, and then our server immediately took the eggplant back because they'd made it with butter. We ordered another bowl of rice. When the eggplant finally came it was pretty good. However, it was the most expensive and least filling meal we had in Havana…even though they didn't charge us for the second bowl of rice.
This is the only restaurant we tried that I really can't recommend.
Cooking at Home
I can't tell you how many people said "it's going to be really hard being vegan in Cuba"…even a vegan friend who has visited Cuba several times. While fresh vegetables are limited (though less than on other islands I've been to) we found the best option was to cook for ourselves.
We went to the grocery store and bought rice, lentils, pasta, canned or jarred vegetables, tomato sauce, and some condiments (must have my vinegar!) From the mercado agropecuario we bought onions and several types of veg and fruit: cabbage, avocado, pineapple, mango, papaya, and limes. (As a side note, "papaya" has developed into a lewd term here: call it fruta bomba instead!)
Shopping could be an adventure. The grocery store on our corner had some items the first day that we never saw again. A larger store several blocks away had a small selection, but rows and rows of the same items.
It took us several days to figure out where to buy produce, and didn't know there was a closer place with a better selection until our last day of shopping. We'd walked by it many items, but this is what it looked like from the street:
Our meals at home weren't gourmet, but they were relatively inexpensive, flavorful, and more satisfying than any restaurant meals we had.
This is one of a series of articles about our trip to Cuba. Click here for a list of all the Cuba-related articles.
Share this post!